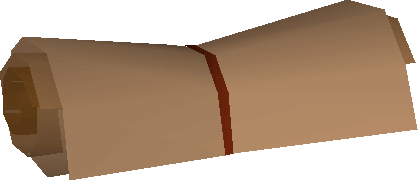 A Chart is used for coordinate clues for Treasure Trails. It is used along with a watch and sextant if one wishes to find a coordinate clue. A chart can be obtained from the Observatory professor at the Observatory. It is not necessary to have a sextant and a watch to obtain the chart. The drop trick can be used to obtain multiple charts if desired.
Due to a game update in the summer of 2014, this item is no longer necessary to solving a coordinate clue. Only the clue and a spade are needed.
As of July 2016, using the information above, a level 3 (hard clue) will not be located at its coordinates with just a spade and the clue in the inventory. Either an initial conversation with the Observatory professor or acquisition of the Chart and other respective items is needed before dropping them to be considered eligible to successfully solve coordinate clues without them on person or in bank.
Ad blocker interference detected!
Wikia is a free-to-use site that makes money from advertising. We have a modified experience for viewers using ad blockers

Wikia is not accessible if you've made further modifications. Remove the custom ad blocker rule(s) and the page will load as expected.