The Chasm of Fire is a dungeon located in the north-west corner of the Shayzien House, housing a variety of demons. All of the demons can only be killed while on a slayer task.
A dwarf multicannon can be used in the chasm.
At the bottom floor are several burnt bone and fire rune spawns.
There are several ways to access the dungeon: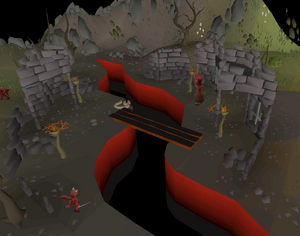 Personalities
Edit
Monsters found in the Chasm of Fire include:
Via use of third-party programs, it was discovered that there is a hidden level beneath the bottom level. This level is currently inaccessible. When asked about this, Mod West stated "Figured I'd leave the bottom floor available, y'know, just in case."[1]
References
Edit
Ad blocker interference detected!
Wikia is a free-to-use site that makes money from advertising. We have a modified experience for viewers using ad blockers

Wikia is not accessible if you've made further modifications. Remove the custom ad blocker rule(s) and the page will load as expected.