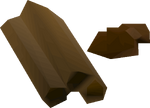 Cinnamon is used to make a creme brulee supreme during the Recipe for Disaster quest Recipe for Disaster (Freeing Sir Amik Varze). It is obtained by using a dramen branch with a pestle and mortar. If used with an brulee (egg), it will make a brulee (raw).
Subquest of Recipe for Disaster

Characters

Items

 Book on chickens •  Pot of cornflour •  Vanilla pod •  Cinnamon •  Evil chicken's egg •  Cornflour mixture •  Milky mixture •  Dragon token •  Brulee (vanilla) •  Brulee (egg) •  Brulee (raw) •  Brulee supreme

Locations

Music
Ad blocker interference detected!
Wikia is a free-to-use site that makes money from advertising. We have a modified experience for viewers using ad blockers

Wikia is not accessible if you've made further modifications. Remove the custom ad blocker rule(s) and the page will load as expected.