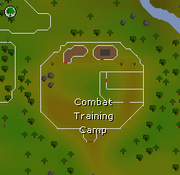 The Combat Training Camp (or King Lathas's training grounds) can be accessed after the Biohazard quest. It was established by King Lathas of East Ardougne to train his forces, and it is located north-west of East Ardougne (and also south of Tree Gnome Stronghold)—it can be accessed from East Ardougne by heading north, then run west, take the bridge south and run west past the Chaos Temple. The entrance to the training grounds is located at the southern fence.
The training camp has several level 63 caged ogres, which can be used for training Ranged and Melee (only when using a halberd). The cage has a loose railing, which you can use to enter the cage to retrieve drops and spent arrows. Attempting to attack the ogres while inside cage results in a message saying "These ogres are for ranged combat only". There can also be some dummies found, swinging at which can give some Attack experience at low enough attack levels. Ava's devices now work in this area.
There are several beer respawns on the tables in the camp.
Characters

Elena • Mourner • Omart • Kilron • Nurse Sarah • Chemist • Guidor • Guidor's wife • King Lathas

Items

 Distillator •  Bird feed •  Plague sample •  Touch paper •  Rotten apple •  Doctors' gown •  Key

Locations

West Ardougne • Rimmington • Dancing Donkey Inn • Combat Training Camp

Miscellaneous
Ad blocker interference detected!
Wikia is a free-to-use site that makes money from advertising. We have a modified experience for viewers using ad blockers

Wikia is not accessible if you've made further modifications. Remove the custom ad blocker rule(s) and the page will load as expected.