Commander Zilyana is the appointed leader of Saradomin's forces in the God Wars Dungeon and the sole representative of the Icyene race in Old School RuneScape.
To gain access to her chamber within the Saradomin Encampment, players must have killed 40 of Saradomin's followers throughout the dungeon. Furthermore, in addition to an Agility level of 70 (cannot be boosted), players must bring two ropes on their first visit in order to navigate obstacles in the encampment.
The Commander can be seen yelling several battle cries whether or not she is in combat with any players:
Death to the enemies of the light!
Slay the evil ones!
Saradomin lend me strength!
By the power of Saradomin!
May Saradomin be my sword!
Good will always triumph!
Forward! Our allies are with us!
Saradomin is with us!
In the name of Saradomin!
All praise Saradomin!
Attack! Find the Godsword!
Bodyguards
Edit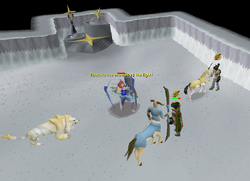 Runes and ammunition
Edit
Herbs, potions, and seeds
Edit
Gem drop table
In addition to the drops above, this monster has a 2/127 chance to access the gem drop table.
Rare drop table
In addition to the drops above, this monster has a 8/127 chance to access the standard rare drop table.
↑ 2.0 2.1 2.2 The drop rate is increased by an unknown amount when wearing a Ring of wealth.
While pretending to form an alliance with Armadyl, Commander Zilyana stole the Armadyl crossbow from Kree'arra during the God Wars, keeping it as a trophy of her cunning.
Following a patch on the 24th October 2013, Zilyana is susceptible to Ice spells and the Zamorak godsword.
At Old School RuneScape's first birthday event, players could speak to Commander Zilyana, resulting in the following dialogue:

Player: Greetings, Zilyana.
Zilyana: Commander, if you don't mind.
Player: I don't, Zilyana.
Zilyana: Bah, find me some more cake. oh and FIND THE GODSWORD!
Player: I'll err... get some more cake alright?
Bosses

| | |
| --- | --- |
| Saradomin | Commander Zilyana |

Items

| | |
| --- | --- |
| Godswords |  Armadyl (or) •  Bandos (or) •  Saradomin (or) •  Zamorak (or) |
| Armadyl armour | |
| Bandos armour |  Chestplate •  Tassets •  Boots |
| Weapons |  Saradomin sword (blessed) •  Zamorakian spear (hasta) •  Staff of the dead (toxic) •  Armadyl crossbow •  Steam battlestaff (or) |
| Pets |  Kree'arra •  General Graardor •  Commander Zilyana •  K'ril Tsutsaroth |
| Other | |

Music

Armageddon • Armadyl Alliance • Bandos Battalion • Strength of Saradomin • Zamorak Zoo

Related