The Cosmic entity's plane is an area separate from Gielinor in which Starflowers grow. The only inhabitant of the plane is the Cosmic Being. It can only be accessed by starting A Fairy Tale Part II, and the only way to access it is via the fairy ring teleportation system, CKP.
As with all Fairy rings, either a dramen staff or lunar staff is required to use them.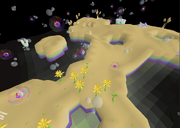 This area is only useful for collecting Starflowers, which are used in Magic essence potions. During the quest A Fairy Tale Part II, the player must visit the Cosmic Plane to pick a Starflower to heal the fairy queen. After the quest, players can revisit the plane to collect more Starflowers for making Magic essence potions if they wish. When first arriving in the plane, there seem to be no flowers; however, they will start blooming after a minute or so, and players will be able to pick them.
The Cosmic Being doesn't have any apparent use, although it does ponder "universal mysteries" (such as "Where do flies go at night?"). The Cosmic Being has a number of different mysteries it ponders.
Characters

Martin • Cosmic Being • Ork • Gorak

| | |
| --- | --- |
| Fairies | Fairy chef • Co-ordinator • Fairy Fixit • Fairy Very Wise • Fairy Nuff • Fairy Queen • Fairy Godfather |

Items

 Nuff's certificate •  Queen's secateurs  Star flower •  Gorak claws •  Gorak claw powder •  Magic essence (unf) •  Magic essence

Locations

Zanaris • Fairy Resistance Hideout • Cosmic entity's plane • Gorak Plane

Related
Ad blocker interference detected!
Wikia is a free-to-use site that makes money from advertising. We have a modified experience for viewers using ad blockers

Wikia is not accessible if you've made further modifications. Remove the custom ad blocker rule(s) and the page will load as expected.