Cowbells are available from any Dairy cow in RuneScape, if a player has started the Cold War quest and has 15 Thieving. Stealing a cowbell provides 16 Thieving experience points. In Zanaris, the dairy cow will have a conversation with you about the bell, and will give it to you.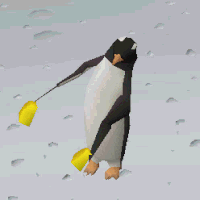 This item is required during the Cold War quest, but additional cowbells may be thieved afterwards. They may be used (played) as long as the player is wearing their Clockwork suit.
The examine is a reference to the Saturday Night Live skit "More Cowbell"
When you use a cowbell on a dairy cow it says, "The cow doesn't want that."
Game-related

List of music tracks

List of boss music • List of all music tracks • List of music in chronological order • Unlisted music tracks

Musical instruments

 Bells • Church organ •  Cowbells •  Enchanted lyre •  Organ •  Penguin bongos •  Slayer bell •  Snake charm •  Windchimes

Items with sound

Emotes with sound

Beckon • Idea • Stamp • Skillcape • Air Guitar
Characters

Larry • Ping • Pong • Noodle • Penguin • Sheep • Agility Instructor • Army Commander • Fred the Farmer • KGP Agent • Pescaling Pax

Items

 KGP ID Card •  Clockwork book •  Clockwork suit •  Cowbells •  Penguin bongos

Rewards

Music

Locations

Related
Ad blocker interference detected!
Wikia is a free-to-use site that makes money from advertising. We have a modified experience for viewers using ad blockers

Wikia is not accessible if you've made further modifications. Remove the custom ad blocker rule(s) and the page will load as expected.