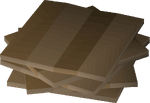 Crate parts are given to the player by Rufus in Canifis during The Great Brain Robbery quest. They are used to build a crate in Fenkenstrain's Castle which the player must then fill with wooden cats. Dr. Fenkenstrain will then climb into this crate to be shipped to Mos Le'Harmless as he is allergic to teleporting. However, the plot is made waste when the whole crate is teleported.
Characters

Brother Tranquility • Mi-Gor • Dr Fenkenstrain • Rufus • Monk • Zombie monk • Zombie pirate • Sorebones • Barrelchest

Items

 Prayer book •  Crate part •  Wolf whistle •  Wooden cat •  Shipping order •  Bell jar •  Brain tongs •  Cranial clamp •  Skull staple •  Fuse •  Keg

Rewards

Locations

Music

Related
Ad blocker interference detected!
Wikia is a free-to-use site that makes money from advertising. We have a modified experience for viewers using ad blockers

Wikia is not accessible if you've made further modifications. Remove the custom ad blocker rule(s) and the page will load as expected.