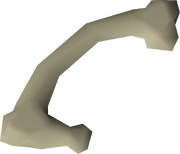 A curved bone is an item dropped by any monster that drop big bones, such as fire giants, Hill Giants, ice giants, Ogres, lizardman shamans, moss giants, Cave horrors, Suqahs, Cyclops, Trolls, and mogres. The curved bone is dropped at a rate of 1/5,000.
Curved bones can be buried, and doing so grants 15 Prayer experience. However, burying curved bones is not recommended as they can be sold to Barlak, a cave goblin found in Dorgesh-Kaan, for 2,000 coins. Players will also receive 2,250 Construction experience if their Construction level is 30 or above. Completion of the Death to the Dorgeshuun quest is required to enter Dorgesh-Kaan.
Curved bones are not converted to peaches upon the usage of Bones to Peaches.
The bonecrusher will not automatically bury the bone, allowing the player to pick it up.
Standard bones
Draconic bones

 Baby dragon •  Dragon •  Wyvern •  Lava dragon •  Superior

Monkey bones

 Karamjan •  Small zombie •  Big zombie •  Gorilla •  Bearded gorilla •  Small ninja •  Medium ninja •  Skeleton gorilla

Ogre bones

 Jogre (Burnt) (Pasty) (Marinated) •  Zogre •  Fayrg •  Raurg •  Ourg

Enriched bones

Special bones

 Curved •  Long •  Chewed •  Mangled •  Shaikahan •  Sheep (1) (2) (3) (4)
Ad blocker interference detected!
Wikia is a free-to-use site that makes money from advertising. We have a modified experience for viewers using ad blockers

Wikia is not accessible if you've made further modifications. Remove the custom ad blocker rule(s) and the page will load as expected.