First form First form (hard) Second form Second form (hard)
Damis is one of the four guardians of the Diamonds of Azzandra, fought only when doing the Desert Treasure quest. He has two forms - the first being rather easy and the second attacking faster as well as draining Prayer rapidly.
He can be fought in the Nightmare Zone after the quest is complete.
At the end of the Shadow Dungeon, west of the Fishing Guild in the fenced area, down a ladder which requires the Ring of visibility to see. When approaching Damis' location, the player will be told that they hear a voice from the walls telling them to turn back.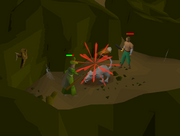 His first form is not much of a threat as the player can use Protect from Melee, however his second form has much higher stats and drains Prayer rapidly when near the player. As such, an effective method to defeat him is to use Magic from a distance. This can be accomplished using Snare/Entangle and maintaining a distance between Damis. Despite this, the player may be under attack by other aggressive monsters in the area such as skeletons and Shadow Hounds.
An even better method than the above is to get the attention of (but not kill) the bat or one of two giant rats found nearby and luring Damis behind them. Unlike the skeletons and Shadow Hounds, they will prevent other monsters passing through them. The player can then safely attack Damis using Magic/Ranged with only the giant rat or bat attacking the player.
Damis is weak to Magic, especially Earth spells. Iban Blast and Trident of the seas/swamp are also effective. He is resistant to melee and Ranged.
↑ Only dropped when fought in the Shadow Dungeon during Desert Treasure.
Prior to an update[which?], Damis could be lured to the end of the alcove north of his room and easily safe-spotted behind a stalagmite. This no longer works as the stalagmite was replaced with a standing torch, which does not allow attacks through it.
Bosses

Agrith-Naar • Agrith-Na-Na • Arrg • Barrelchest • Black demon • Black Knight Titan • Bouncer • Chronozon • Count Draynor • Culinaromancer • Dad • Dagannoth mother • Damis • Dessourt • Dessous • Elvarg • The Everlasting • Evil Chicken • Fareed • Flambeed • Gelatinnoth Mother • Giant Roc • Giant scarab • Glod • Ice Troll King • The Inadequacy • Jungle Demon • Kamil • Karamel • The Kendal • Khazard warlord • King Roald • Me • Moss giant • Nazastarool • Nezikchened • Sand Snake • Skeleton Hellhound • Slagilith • Tanglefoot • Tree spirit • Treus Dayth • The Untouchable • Witch's experiment

Rewards

| | |
| --- | --- |
| Resources |  Snape grass •  Red spiders' eggs •  Flax •  Bucket of sand •  Potato cactus •  Seaweed •  Dragon scale dust •  Compost potion •  Herb box •  Vial of water •  Scroll of redirection |
| Upgrades |  Black mask (imbued) •  Slayer helmet (imbued) •  Salve amulet (imbued) • Salve amulet (e) (imbued) •  Ring of suffering (imbued) •  Berserker ring (imbued) •  Warrior ring (imbued) •  Archers ring (imbued) •  Seers ring (imbued) •  Tyrannical ring (imbued) •  Treasonous ring (imbued) •  Ring of the gods (imbued) •  Granite ring (imbued) •  Crystal bow •  Crystal shield •  Crystal halberd |
| Benefits | |
Ad blocker interference detected!
Wikia is a free-to-use site that makes money from advertising. We have a modified experience for viewers using ad blockers

Wikia is not accessible if you've made further modifications. Remove the custom ad blocker rule(s) and the page will load as expected.