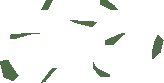 Dark fishing bait is dropped by various monsters found in the Wilderness. It is needed as bait for dark crabs, along with a lobster pot. A minimum of 85 Fishing is required to use this bait.
Each catch uses up one piece of bait, so it is crucial to have several thousand if the player wishes to catch a significant number of fish. However, as dark crabs can only be found in the Wilderness, it is only recommended to bring enough for an inventory.
Dropping monsters
Edit
Ad blocker interference detected!
Wikia is a free-to-use site that makes money from advertising. We have a modified experience for viewers using ad blockers

Wikia is not accessible if you've made further modifications. Remove the custom ad blocker rule(s) and the page will load as expected.