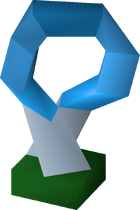 The dark totem is an item that can be created by combining the dark totem base, middle and top. All three components can be found by killing monsters (excluding ghosts) in the Catacombs of Kourend. An assembled dark totem can also be obtained from Skotizo. Players must assemble the totem if they wish to receive further totem pieces from monsters within the Catacombs.
The dark totem is used to access the lower level of the Catacombs of Kourend to fight Skotizo. Each totem gives a one-time only access to face it.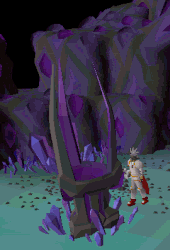 Assembling the dark totem results in a chatbox message stating You bring the totem pieces together with a click. It looks kind of like an arcane key and pulses with dark power in your hand.
Dropping monsters
Edit
| Monster | Combat level | Quantity | Rarity |
| --- | --- | --- | --- |
| Skotizo | 321 | 1 | |