The desert amulet 4 is a reward from completing the elite Desert Diary. The amulet is received from Jarr at Shantay Pass, and can be retrieved from him for free if lost. It provides unlimited Nardah teleports which take the player within close proximity of the Elidinis Statuette, which completely heals the player from damage and poison and offers restoration to run energy, prayer points, and special attack when worshipped.
All of the Desert amulets provide no stat bonuses. They are the only achievement diary reward to have no stat bonuses, despite being considered one of the hardest to obtain.
Bonuses
Hover over image for type

A player wearing the elite diary set
 Attack bonus
+0
+0
+0
+0
+0
 Defence bonus
+0
+0
+0
+0
+0
Other bonuses
Slot

list

+0
+0
+0%
+0
From Desert amulet 1, 2 and 3
Edit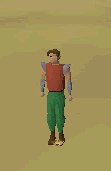 Desert amulet 4 only
Edit
Ad blocker interference detected!
Wikia is a free-to-use site that makes money from advertising. We have a modified experience for viewers using ad blockers

Wikia is not accessible if you've made further modifications. Remove the custom ad blocker rule(s) and the page will load as expected.