Dessous, the Harvester of Blood, is a vampyre lord who must be killed during the Desert Treasure quest. The player is told of Dessous by Malak, one of the four guardians of the Diamonds of Azzanadra, who wants him dead in order to claim Dessous' land as his own. In order to achieve this, Malak tells the player that Dessous guards the diamond and if they wish to retrieve it they must eliminate him; it is when the player encounters Malak after the fight that he confesses that he is the real guardian and that Dessous was just an enemy of his, and then gives the diamond to the player as a reward for their troubles.
He can be fought in the Nightmare Zone after the quest is complete.
Dessous' attack is one part magic, one part ranged (a swarm of bats) each of which does double 5's for a total of 10 hitpoints. He mainly attacks with a much stronger and rapid melee attack (attack speed of 7, equivalent to a shortbow or throwing rings on rapid stance) which hits up to 19. Using either Protect from Magic or Ranged will stop half of the damage done by the bats. Players are advised to use Protect from Melee and to take armour which is resistant to magic attacks. Another option is using Protect from Magic and your best melee armour, but this is not recommended due to the speed and accuracy of his melee attack. A third option is to bring splitbark armour or dragonhide armour, as it protects from melee, ranged, and magic attacks. If players try to hit Dessous from a long distance away, he will teleport closer to them, and if Dessous teleports three times in total he will get "bored of toying with you" and go back to his grave (this means you have to refill the silver pot and start the fight again). Melee attacks don't work well on him, so using powerful magic spells up close is a good strategy since he has a low magic defence. In particular, Dessous is commonly thought to be most weak to any of the air spells although earth spells work comparatively well. Another method that works well enough is to use Fire Blast and Protect from Melee to avoid his powerful melee attack; a decent player shouldn't need more than half an inventory of monkfish.
Dessous is immune to the effects of a Ring of Recoil.
Dessous' magic/ranged combination attack has a loud, piercing cry when he uses it, so it could help to turn off the sound effects so it doesn't distract players when fighting him.
If any part of the quest is not followed correctly (for example, if the pot is not blessed), Dessous will say "You will never defeat me" when reduced to 0 life points and regenerate all his life points, ready to fight again, so be careful! To avoid this keep full concentration at all times while making the blessed pot of blood.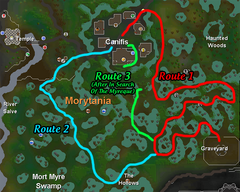 The site of the fight is Dessous's Tomb, which is found in the south-east of Mort Myre, in an area called the Graveyard. To awaken him, players must use a blessed silver pot containing blood, garlic and spice on his grave.
Dessous is a French word that means "beneath".
NPCs

Archaeologist • Archaeological expert • Malak • Ruantun • High Priest • Troll child • Troll mother • Troll father • Rasolo • Eblis • Azzanadra

Monsters

Items

 Etchings •  Translation • Silver pot •  Silver pot (blood) •  Blood diamond •  Ice diamond •  Smoke diamond •  Shadow diamond •  Gilded cross •  Ring of visibility

Rewards

 Ring of visibility

Related
Bosses

Agrith-Naar • Agrith-Na-Na • Arrg • Barrelchest • Black demon • Black Knight Titan • Bouncer • Chronozon • Count Draynor • Culinaromancer • Dad • Dagannoth mother • Damis • Dessourt • Dessous • Elvarg • The Everlasting • Evil Chicken • Fareed • Flambeed • Gelatinnoth Mother • Giant Roc • Giant scarab • Glod • Ice Troll King • The Inadequacy • Jungle Demon • Kamil • Karamel • The Kendal • Khazard warlord • King Roald • Me • Moss giant • Nazastarool • Nezikchened • Sand Snake • Skeleton Hellhound • Slagilith • Tanglefoot • Tree spirit • Treus Dayth • The Untouchable • Witch's experiment

Rewards

| | |
| --- | --- |
| Resources |  Snape grass •  Red spiders' eggs •  Flax •  Bucket of sand •  Potato cactus •  Seaweed •  Dragon scale dust •  Compost potion •  Herb box •  Vial of water •  Scroll of redirection |
| Upgrades |  Black mask (imbued) •  Slayer helmet (imbued) •  Salve amulet (imbued) • Salve amulet (e) (imbued) •  Ring of suffering (imbued) •  Berserker ring (imbued) •  Warrior ring (imbued) •  Archers ring (imbued) •  Seers ring (imbued) •  Tyrannical ring (imbued) •  Treasonous ring (imbued) •  Ring of the gods (imbued) •  Granite ring (imbued) •  Crystal bow •  Crystal shield •  Crystal halberd |
| Benefits | |
Ad blocker interference detected!
Wikia is a free-to-use site that makes money from advertising. We have a modified experience for viewers using ad blockers

Wikia is not accessible if you've made further modifications. Remove the custom ad blocker rule(s) and the page will load as expected.