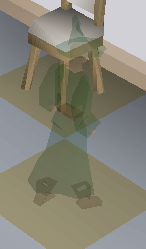 Dhalak the Mage can be found:
He will give you a Ghostly hood and ask you to look for Viggora the Warrior.
If you have level 99 Magic, your character will say "Well, I don't mean to brag, but I guess I am with my level 99 magic..." after he asks if you are a mighty sorcerer.
Dhalak seems to wear Fremennik robes.
Equipment

 Ghostly hood •  Ghostly robe top •  Ghostly robe bottom •  Ghostly gloves •  Ghostly boots •  Ghostly cloak •  Shadow sword

Ghosts

Other

Ghostly Robes (miniquest) • Shadow Sword (miniquest) • Ring of visibility • Ghostspeak amulet
Ad blocker interference detected!
Wikia is a free-to-use site that makes money from advertising. We have a modified experience for viewers using ad blockers

Wikia is not accessible if you've made further modifications. Remove the custom ad blocker rule(s) and the page will load as expected.