Diamond bolts (e)
Release date
31 July 2006 (Update)
Members only?
Yes
Quest item?
No
Tradeable?
Yes
Equipable?
Yes
Stackable?
Yes
High Alch
126 coins
Low Alch
84 coins
Destroy
Drop
Store price
Not sold
Exchange price

399

coins (info)
Buy limit
Unknown
Weight
0 kg
Examine
Enchanted Diamond tipped Adamantite Crossbow Bolts.
[view]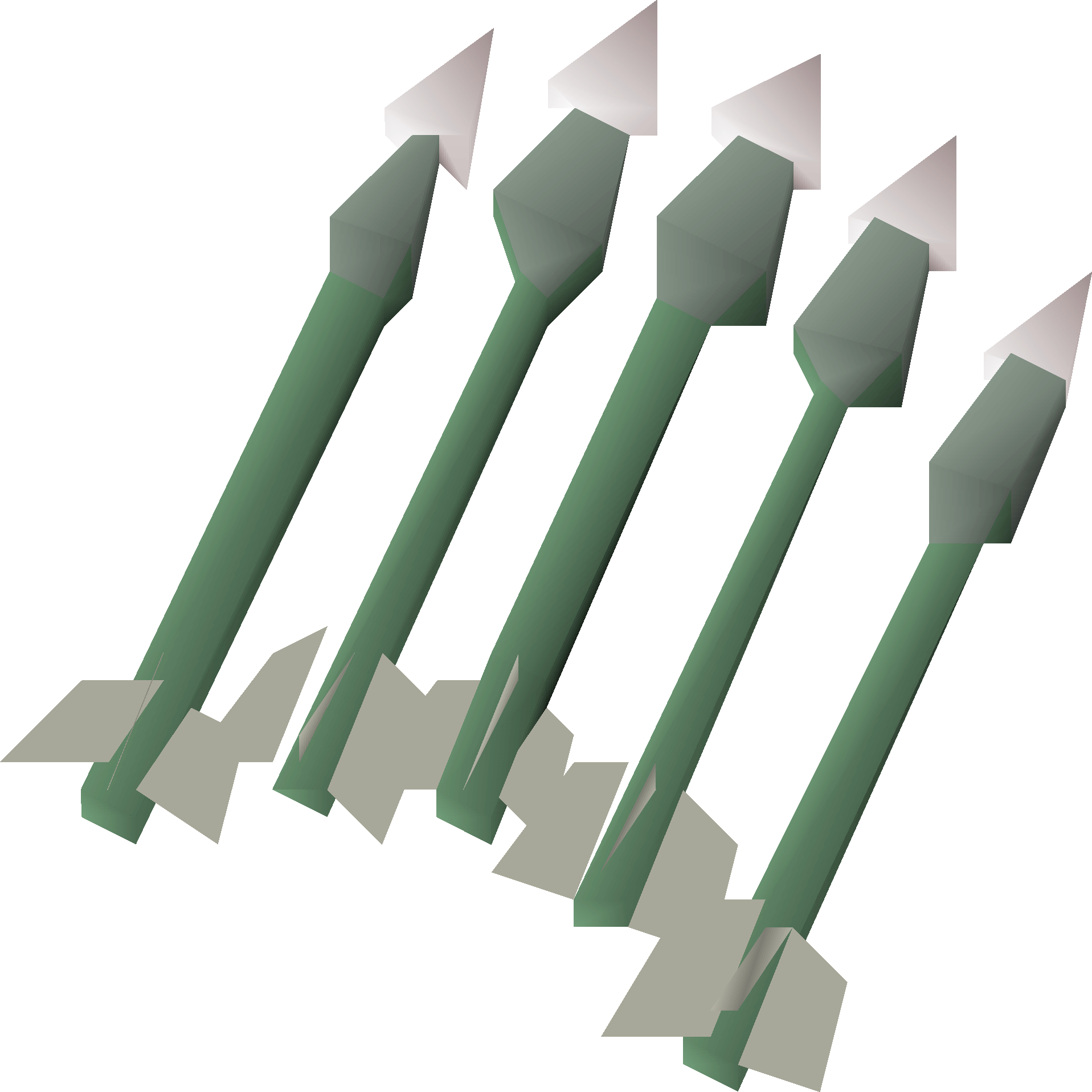 Enchanted diamond bolts are adamant bolts tipped with enchanted diamond. Diamond bolts can be enchanted by using the spell Enchant Crossbow Bolt (Diamond) by a player with 57 Magic. The spell enchants 10 diamond bolts per cast and uses 2 law runes, 1 cosmic rune, and 10 earth runes.
Enchanted diamond bolts have an Armour Piercing enchantment which increases the max hit by 15% and ignores your opponents defence and your own accuracy for the hit it activates on.[1][2][3] A tinkling sound can be heard when this activates.

If the player has completed the hard Kandarin Diary, there is a 10% increase of the likelihood that the special effect of an enchanted bolt will occur, giving enchanted diamond bolts an overall 11% chance of the special effect activating.[4] This effect is always active regardless if the headgear is equipped or not.
Bonuses
Hover over image for type

The Armour Piercing ability from enchanted diamond bolts after enchanting diamond bolts.
 Attack bonus
+0
+0
+0
+0
+0
 Defence bonus
+0
+0
+0
+0
+0
Other bonuses
Slot

list

+0
+105
0%
+0
References
Edit
Metal bolts

 Bronze (unf) •  Blurite (unf) •  Silver (unf) •  Iron (unf) •  Steel (unf) •  Mithril (unf) •  Adamant (unf) •  Runite (unf)

Bolt tips

 Opal •  Jade •  Pearl •  Topaz •  Sapphire •  Emerald •  Ruby •  Diamond •  Amethyst •  Dragonstone •  Onyx

Gem-tipped bolts

 Opal (e) •  Jade (e) •  Pearl (e) •  Topaz (e) •  Sapphire (e) •  Emerald (e) •  Ruby (e) •  Diamond (e) •  Dragonstone (e) •  Onyx (e)

Other bolts

 Bone •  Barbed •  Mith grapple (unf) (tip) •  Bolt rack •  Kebbit •  Long kebbit •  Broad (unf) •  Amethyst
Ad blocker interference detected!
Wikia is a free-to-use site that makes money from advertising. We have a modified experience for viewers using ad blockers

Wikia is not accessible if you've made further modifications. Remove the custom ad blocker rule(s) and the page will load as expected.