For a list of all items and upgrades within the Construction skill, see Construction/All milestones.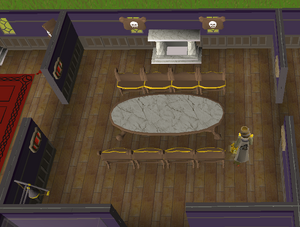 The Dining room in a player-owned house is a place where a servant can serve food to the player and guests.
Building a Dining Room requires level 10 Construction and 5,000 coins.
There are 7 Hotspots available:
Table
Fireplace
Seating x2
Decoration
Curtain
Bell pull
All the tables can be made as flatpacks in the Workshop.
Fireplace
Edit
You can only use regular logs to light the fireplace, giving some Firemaking experience.
Benches are used to sit on. They have little practical use but add to the 'dining room' concept.
All the benches can be made as flatpacks in the Workshop.
Decoration
Edit
You must speak to Sir Renitee in White Knights' Castle to obtain a family crest before you can build a Decoration.
Bell-pull
Edit
Ringing a bell-pull in your dining room instantly summons your servant, making it very useful.
Complete Room
Edit
To build this room with the highest level furniture possible in one go requires level 72 construction, 17 mahogany planks, 4 teak planks, 9 bolts of cloth, 15 gold leaves and 3 marble blocks.

 Garden •

 Parlour •

 Kitchen •

 Dining Room •

 Workshop •

 Bedroom •

 Skill Hall •

 Games room •

 Combat Room •
 Quest Hall •

 Menagerie •

 Study •

 Costume Room •

 Chapel •

 Portal Chamber •

 Formal Garden •

 Throne Room •

 Oubliette •

 Superior Garden •

 Dungeon •

 Treasure Room •
 Achievement Gallery
Table

 Wood •  Oak •  Carved oak •  Teak •  Carved teak •  Mahogany •  Opulent

Fireplace

Seating

 Wooden •  Oak •  Carved oak •  Teak •  Carved teak •  Mahogany •  Gilded

Decoration

Bell-pull

Curtains
Ad blocker interference detected!
Wikia is a free-to-use site that makes money from advertising. We have a modified experience for viewers using ad blockers

Wikia is not accessible if you've made further modifications. Remove the custom ad blocker rule(s) and the page will load as expected.