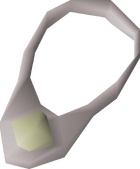 A dodgy necklace is an opal necklace enchanted via the Lvl-1 Enchant spell.
While equipped, the necklace provides a 25% chance to prevent the player from being stunned and damaged while pickpocketing NPCs. The necklace begins with 10 charges; one charge is consumed each time the necklace successfully prevents damage. When the last charge is consumed, the necklace crumbles to dust.
As in the case of other enchanted items of jewellery (such as the ring of forging), the charges stored on this necklace are specific to the player, not the item itself. This means that players will lose a dodgy necklace after 10 uses irrespective of the particular one they have equipped, and all dodgy necklaces will show the same charge when checked.
Depending on the NPC being pickpocketed, one necklace can prevent 10 to 50 damage and 40 to 60 seconds of being stunned.
Bonuses
Hover over image for type
 Attack bonus
+0
+0
+0
+0
+0
 Defence bonus
+0
+0
+0
+0
+0
Other bonuses
Slot

list

+0
+0
+0%
+0
There is currently a bug that causes the necklace to not work on blackjackable NPCs. This has not been fixed.
The name is a pun on being dodgy, meaning being deceitful and dishonest like a pickpocket, and dodging NPC stun attacks.
Crafted

 Gold •  Opal •  Sapphire •  Jade •  Emerald •  Topaz •  Ruby •  Diamond  Dragonstone •  Onyx •  Zenyte

Enchanted

 Dodgy •  Games •  Passage •  Binding •  Faith •  Digsite •  Phoenix •  Skills •  Berserker •  Anguish (or)

Other

 Brass •  Clean •  Occult (or) •  'perfect' •  Silver •  Stolen family heirloom