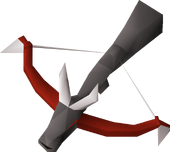 The dragon hunter crossbow is a possible reward from the Chambers of Xeric. Equipping the crossbow requires 65 Ranged, and increases both accuracy and damage by 30% when fighting dragons (excluding revenant dragons), as well as wyverns and the great olm. This stacks additively with Void Knight equipment, not multiplicatively. The crossbow will, however, stack multiplicatively with the Slayer helm (i) (49.5%).
Long kebbit bolts and Kebbit bolts cannot be used with this weapon, unlike the similar hunter's crossbow that can fire them. Broad bolts may be used, however, they require 55 Slayer to use.
Bonuses
Hover over image for type
 Attack bonus
+0
+0
+0
+0
+95
 Defence bonus
+0
+0
+0
+0
+0
Other bonuses
Slot

list

+0
0
0%
+0
Combat styles
Edit
Upon release, the dragon hunter crossbow had a 10% accuracy and damage bonus. This was changed to 30% in an update on 25 January 2018.
Metal crossbows

 Bronze •  Blurite •  Iron •  Steel •  Mithril •  Adamant •  Rune •  Dragon

Other crossbows

 Normal •  Phoenix •  Dorgeshuun •  Hunter's •  Karil's •  Dragon hunter •  Armadyl

Unstrung crossbows

 Bronze •  Blurite •  Iron •  Steel •  Mithril •  Adamant •  Runite •  Dragon

Crossbow limbs

 Bronze •  Blurite •  Iron •  Steel •  Mithril •  Adamantite •  Runite •  Dragon

Crossbow stock

 Wooden •  Oak •  Willow •  Teak •  Maple •  Mahogany •  Yew •  Magic
Mount Quidamortem

Captain Rimor • Gnosi • Historian Duffy • Mountain Guide • Natural Historian • Stuliette

NPCs (inside)

Items

Fish

 Pysk (raw) •  Suphi (raw) •  Leckish (raw) •  Brawk (raw) •  Mycil (raw) •  Roqed (raw) •  Kyren (raw)

Bats

 Guanic (raw) •  Prael (raw) •  Giral (raw) •  Phluxia (raw) •  Kryket (raw) •  Murng (raw) •  Psykk (raw)

Herblore

Potions

Weak

 Elder (-) •  Twisted (-) •  Kodai (-) •  Revitalisation (-) •  Prayer enhance (-) •  Xeric's aid (-) •  Overload (-)

Standard

 Elder •  Twisted •  Kodai •  Revitalisation •
 Prayer enhance •  Xeric's aid •  Overload

Strong

 Elder (+) •  Twisted (+) •  Kodai (+) •  Revitalisation (+) •  Prayer enhance (+) •  Xeric's aid (+) •  Overload (+)

Texts

 Creature keeper's journal •  Nistirio's manifesto •  Tekton's journal •  Transdimensional notes •  Vanguard judgement •  Houndmaster's diary •  Dark journal

Miscellaneous

 Kindling •  Empty gourd vial (water-filled) •  Keystone crystal •  Cavern grubs •  Medivaemia blossom •  Mallignum root plank

Rewards

| | |
| --- | --- |
| Melee | |
| Ranged |  Dragon hunter crossbow •  Dragon thrownaxe •  Twisted bow •  Twisted buckler |
| Magic | |
| Prayer scrolls | |
| Other |  Dinh's bulwark •  Dragon harpoon •  Dark relic •  Ancient tablet •  Olmlet |