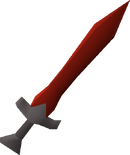 The dragon sword is a possible reward from the Chambers of Xeric. To wield it, players require an Attack level of 60. It is currently the best shortsword available in Old School RuneScape.
Bonuses
Hover over image for type
 Attack bonus
+65
+55
-2
+0
+0
 Defence bonus
+0
+2
+1
+0
+0
Other bonuses
Slot

list

+63
+0
+0%
+0
Special attack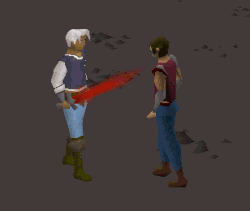 The dragon sword has a special attack, Wild Stab, that consumes 40% of the player's special attack energy to hit the target with 25% increased accuracy and damage. If the target is using Protect from Melee, the special attack will ignore the prayer for one attack.
Combat styles
Dagger

 Bronze •  Iron •  Bone •  Steel •  Black •  White •  Mithril •  Adamant •  Rune •  Toktz-xil-ek •  Dragon •  Abyssal

Sword

 Training •  Wooden •  Bronze •  Iron •  Steel •  Black •  White •  Mithril •  Adamant •  Rune •  Rapier •  Leaf-bladed •  Toktz-xil-ak •  Dragon •  Ghrazi rapier

Spear

 Bronze •  Iron •  Bone •  Steel •  Black •  Mithril •  Adamant •  Rune •  Gilded •  Leaf-bladed •  Dragon •  Guthan's •  Zamorakian •  Vesta's

Hasta

 Bronze •  Iron •  Steel •  Mithril •  Adamant •  Rune •  Gilded •  Zamorakian

Other

 Egg whisk •  Spork •  Kitchen knife •  Wolfbane •  Keris •  Dark •  Glowing
Melee weapons

 Axe •  Pickaxe (or) •  Harpoon •  Battleaxe •  Cane •  Claws •  Dagger •  Halberd •  Mace •  Sword •  Longsword •  Scimitar (or) •  Spear •  2h sword •  Warhammer

Ranged
Armour

 Med helm •  Full helm (g) •  Chainbody (g) •  Platebody (g) •  Platelegs (g) •  Plateskirt (g) •  Square shield (g) •  Kiteshield (g) •  Boots (g) •  Gloves •  Defender (t)

Other

 Shield left half •  Shield right half •  Dragon metal shard •  Dragon metal slice •  Dragon metal lump •  Arrowtips •  Javelin heads •  Dart tips •  Unfinished bolts