The druidic wreath is obtained after completing the midsummer ritual three times during the 2014 Midsummer event, as well as subsequent midsummer events.
This item mimics the look of the third-age druidic wreath in RuneScape 3.
During the 2014 and 2015 Midsummer event, players were able to hug trees, provided they wore the druidic wreath.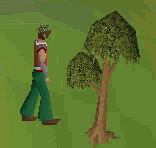 Hugging a nearby tree around the Druid Circle will increase your tree-hugging rank. It is unknown what tree-hugging ranks were for. Hugging a certain amount of trees will give players a tree hugging title:
0 hugs - What's a tree?
15 hugs - Tree Cuddler
30 hugs - BARKing Mad
55 hugs - Tree Hugger
75 hugs - At One With Trees
Bonuses
Hover over image for type

A player wearing the druidic wreath.
 Attack bonus
+0
+0
+0
+0
+0
 Defence bonus
+0
+0
+0
+0
+0
Other bonuses
Slot

list

+0
0
0%
+0
The examine info is a reference to the third-age druidic wreath in RuneScape 3, which is an extremely rare reward from elite treasure trails. In contrast, the druidic wreath in Old School RuneScape is very common.
The druidic wreath was graphically updated on 8 October 2015 due to the model breaking the polygon count limit.
Birthday

 War ship •  Gnome child hat •  4th birthday hat •  Birthday balloons •  Prop sword

Easter

 Easter egg •  Rubber chicken •  Easter ring •  Easter basket

Midsummer

 Disk of returning •  Half full wine jug •  Druidic wreath •  Mask of balance •  Hornwood helm •  Hand fan

Hallowe'en

 Pumpkin •  Scythe •  Zombie head •  Jack lantern mask •  Grim reaper hood •  Anti-panties •  Hunting knife •  Jonas mask

Christmas

 Christmas cracker •  Yo-yo •  Wintumber tree •  Reindeer hat •  Snow globe •  Sack of presents •  Giant present

Partyhats

 Yellow •  Green •  Red •  White •  Purple •  Blue •  Black •  Rainbow

Santa hats

 Regular •  Black •  Inverted •  Wise Old Man's

Marionettes

Santa outfit

 Mask •  Jacket •  Pantaloons •  Gloves •  Boots

Antisanta outfit

 Mask •  Jacket •  Pantaloons •  Gloves •  Boots

Snow imp costume

Hats and Scarves

| | |
| --- | --- |
| Hats |  Bobble •  Jester •  Tri-jester •  Woolly |
| Scarves |  Bobble •  Jester •  Tri-jester •  Woolly |

Miscellaneous

 Cabbage cape •  Cruciferous codex •  Rainbow scarf •  Runefest shield

| | |
| --- | --- |
| Cat toys |  Tiger •  Lion •  Snow leopard •  Amur leopard |
| Clue hunter outfit | |