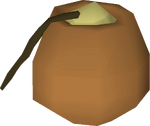 Dynamite is used in the Blast Mining minigame on the northern side of the Lovakengj House in Great Kourend.
In order to create dynamite, players must use volcanic sulphur, juniper charcoal, saltpetre, and a pot to create a dynamite pot, then adding a ball of wool to complete the product.
Players can purchase dynamite from Thirus to the south-east of the entrance to the blast mine for 1150 coins. Dynamite can also be received as a reward from the Wintertodt minigame in stacks of 4-19 (noted) or the Chambers of Xeric.
Ad blocker interference detected!
Wikia is a free-to-use site that makes money from advertising. We have a modified experience for viewers using ad blockers

Wikia is not accessible if you've made further modifications. Remove the custom ad blocker rule(s) and the page will load as expected.