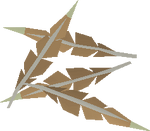 Eagle feathers (called Giant feathers when on the ground) are found in Eagles' Peak Dungeon and are used in the Eagles' Peak quest to make the eagle cape. After the quest, they serve no purpose, besides being used to make additional eagle capes.
Coloured feathers
Quest feathers

 Bronze feather •  Eagle feather •  Fire feather •  Golden feather (Eagles' Peak) •
 Golden feather (Priest in Peril) •  Griffin feather •  Magic gold feather •  Metal feather •  Phoenix feather •  Silver feather

Other
Ad blocker interference detected!
Wikia is a free-to-use site that makes money from advertising. We have a modified experience for viewers using ad blockers

Wikia is not accessible if you've made further modifications. Remove the custom ad blocker rule(s) and the page will load as expected.