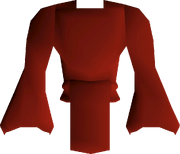 The elder chaos top is obtained as a rare drop from Elder Chaos druids. It is part of the elder chaos druid robes set, and requires level 40 in Magic to wear.
Bonuses
Hover over image for type
 Attack bonus
+0
+0
+0
+10
+0
 Defence bonus
+0
+0
+0
+8
+0
Other bonuses
Slot

list

+0
+0
+0%
+0
Dropping monsters
Edit
Upon release, the robe top's sash was white, rather than the red seen on elder chaos druids. The sash was recoloured to red in an update three weeks later, which also added the elder chaos hood.
Hats

 Void (+0) •  Elemental (+0) •  Mind (+0) •  Wizard(t)(g) (+2) •  Wizard(t)(g) (+2) •  Skeletal (+2) •  Xerician (+3) •  Gnome (+3) •  Canifis (+3) •  Fremennik (+3) •  Splitbark (+3) •  Ghostly (+3) •  Lunar (+3) •  Slayer helmet (i) (+3) •  Mystic (+4) •  Enchanted (+4) •  Darkness (+4) •  Mitre (+4) •  Elder (+5) •  Infinity (+6) •  Ahrim's (+6) •  Farseer (+6) •  Healer (+6)•  Third age (+8)•  Ancestral (+8)

Robe tops

 Void (+0) •  Zamorak (+2) •  Wizard (t)(g) (+3) •  Black(t)(g) (+3) •  Vestment (+4) •  Ghostly (+5) •  Skeletal (+8) •  Elder (+10) •  Splitbark (+10) •  Lunar (+10) •  Xerician (+12) •  Mystic (+20) •  Enchanted (+20) •  Darkness (+20) •  Infinity (+22) •  Third age (+24) •  Ahrim's (+30) •  Ancestral (+35)

Robe legs

 Void (+0) •  Blue(t)(g)(+0) •  Black (t)(g) (+0) •  Zamorak (+2) •  Ghostly (+4) •  Vestment (+4) •  Skeletal (+6) •  Elder (+6) •  Splitbark (+7) •  Lunar (+7) •  Xerician (+8) •  Mystic (+15) •  Enchanted (+15)•  Darkness (+15) •  Infinity (+17) •  Third age (+19) •  Ahrim's (+22) •  Ancestral (+26)

Gloves

 Void (+0) •  Skeletal (+0) •  Hardleather (+1) •  Bronze (+1) •  Splitbark (+2) •  Ghostly (+2) •  Iron (+2) •  Steel (+2) •  Mystic (+3) •  Darkness (+3) •  Combat bracelet (+3) •  Regen bracelet (+3) •  Black (+3) •  Mithril (+3) •  Lunar (+4) •  Adamant (+4) •  Rune (+4) •  Infinity (+5) •  Dragon (+5) •  Barrows (+6) •  Tormented bracelet (+10)

Boots

 Skeletal (+0) •  Splitbark (+2) •  Ghostly (+2) •  Lunar (+2) •  Mystic (+3) •  Darkness (+3) •  Wizard (+4) •  Infinity (+5) •  Eternal (+8)

Capes

 Vestment cloak (+1) • Fire cape (+1) • Infernal cape (+1) •  Ardougne cloak 1 (+2) •  Ardougne cloak 2 (+4) •  Ghostly cloak (+5) •  Ardougne cloak 3 (+5) •  Ardougne cloak 4 (+6) •  God capes (+10) •  Imbued god capes (+15)

Amulets

 Stole (+2) •  Accuracy (+4) •  Power (+6) •  Magic (t) (+10) •  Glory (t) (+10) •  Fury (or) (+10) •  Occult(or) (+12) •  Third age (+15)

Rings

Shields

 Broodoo shield (+3) •  Book of balance (+4) •  Unholy book (+8) •  Tome of fire (+8) •  Book of darkness (+10) •  Malediction ward (+12) •  Ancient wyvern shield (+15) •  Mage's book (+15) •  Arcane spirit shield (+20)