The elysian spirit shield requires 75 Defence and 75 Prayer to wield. The shield is made by attaching an elysian sigil, a rare drop from the Corporeal Beast, to a blessed spirit shield. This process requires 90 Prayer and 85 Smithing. Players without the required skill levels to create the shield may ask Abbot Langley in the Edgeville Monastery to combine the sigil and the blessed spirit shield, for a fee of 1,500,000 coins.
This shield has superior Melee and Ranged defences to the Arcane and Spectral spirit shields, as well as a special bonus (explained below).
Bonuses
Hover over image for type

A player wielding the elysian spirit shield.
 Attack bonus
+0
+0
+0
+0
+0
 Defence bonus
+63
+65
+75
+2
+57
Other bonuses
Slot

list

+0
0
0%
+3
Passive effect
Edit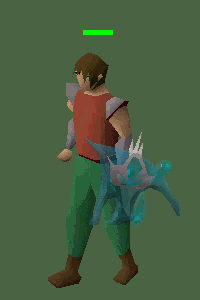 The elysian spirit shield has a 70% chance of reducing the damage the player receives by 25%. Disregarding the effect, the shield is nearly as powerful as the dragonfire shield in defensive bonuses. On the other hand, it lacks the +7 Strength bonus the Dragonfire shield grants.
The passive effect makes this shield one of the strongest shields in RuneScape. On average, players wielding this shield will take 17.5% (0.25*0.70) less damage. Taking the damage reduction and probability for it to occur, a player with 99 hitpoints would on average need to take 120 (99/0.825) damage to die.
In classical Greek mythology, there is a realm in the Underworld called the Elysium Fields, or the Elysian Plains. This is the final resting place for the souls of the heroic and the virtuous. However, this was only present in the Tartarus domain of the underworld.
When Nieve is killed during Monkey Madness II, the player has the opportunity to retrieve her Elysian spirit shield, however those who do soon find out that it has crumbled to dust and is useless.
God books

 Book of balance (+5) •  Holy book (+5) •  Unholy book (+5) •  Book of law (+5) •  Book of darkness (+5) •  Book of war (+5)

Amulets

 Amulet of power (+1) •  Necklace of anguish (+2) •  Amulet of torture (+2) •  Amulet of glory (+3) •  Salve amulet (e) (ei) (+3) •  Amulet of the damned (+3) •  Amulet of fury (+5) •  Holy symbol (+8) •  Unholy symbol (+8) •  God stole (+10) •  Dragonbone necklace (+12)

Robes

 Priest gown (+6) •  Zamorak robes (+6) •  Druid's robes (+8) •  Shade robes (+9) •  Monk's robes (+11) •  Vestment robes (Top & Bottom: +11, whole set: +32)

Capes

 Ardougne cloak 1 (+2) •  Fire cape (+2) •  Vestment cloak (+3) •  Skillcape (trimmed) (+4) •  Ardougne cloak 2 (+4) •  Ardougne cloak 3 (+5) •  3rd age cloak (+5) •  Ardougne cloak 4 (+6)

Weapons

 Maces •  White equipment •  Armadyl crossbow (+1) •  Saradomin sword (+2) •  Zamorakian spear (+2) •  Silver sickle (b) (+5) •  Toktz-mej-tal (+5) •  Wolfbane (+5) •  Crozier (+6) •  Void knight mace (+6) •  Godswords (+8)

Shields

 White equipment •  Falador shield 1 (+1) •  Spirit shield (+1) •  Falador shield 2 (+2) •  Blessed spirit shield (+3) •  Arcane spirit shield (+3) •  Elysian spirit shield (+3) •  Spectral spirit shield (+3) •  Falador shield 3 (+4) •  Falador shield 4 (+5) •  Broodoo shield (+5)

Armour

 White equipment •  Armadyl (+3) •  Bandos (+3) •  Helm of neitiznot (+3) •  Blessed d'hide (+4) •  Mitre (+5) •  Elite void robes (+6) •  Initiate armour (+14) •  Proselyte armour (+17) •  Verac's (+18)

Rings

 Explorer's rings (+1) •  Ring of the gods (+4) •  Ring of suffering (i) (+4) •  Ring of the gods (i) (+8)

God blessings

 Holy blessing (+1) •  Unholy blessing (+1) •  Peaceful blessing (+1) •  Honourable blessing (+1) •  War blessing (+1) •  Ancient blessing (+1)