Emerald bolts (e)
Release date
31 July 2006 (Update)
Members only?
Yes
Quest item?
No
Tradeable?
Yes
Equipable?
Yes
Stackable?
Yes
High Alch
35 coins
Low Alch
23 coins
Destroy
Drop
Store price
Not sold
Exchange price

179

coins (info)
Buy limit
Unknown
Weight
0 kg
Examine
Enchanted Emerald tipped Mithril Crossbow Bolts.
[view]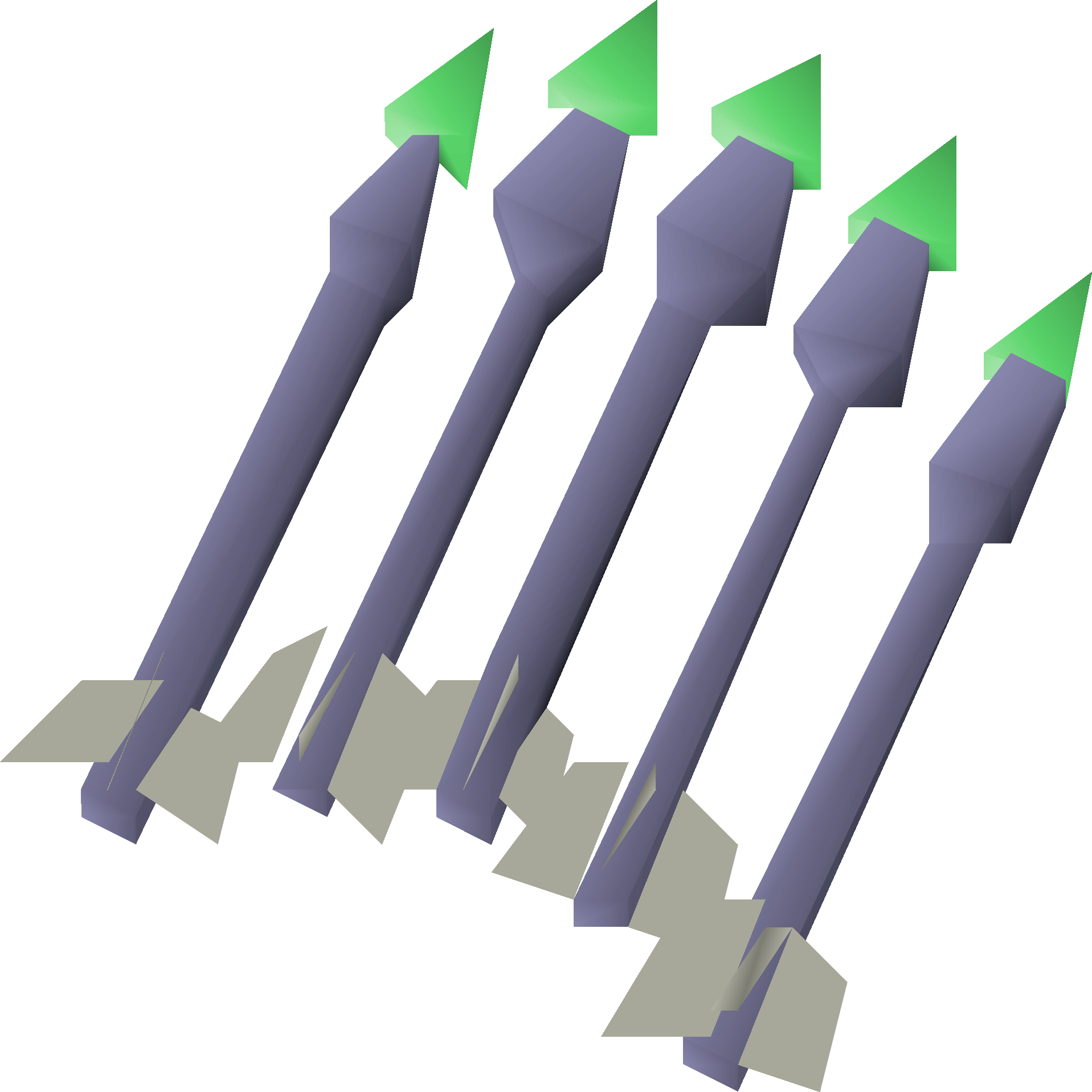 Enchanted emerald bolts
are
mithril bolts
tipped with enchanted
emerald
.
Emerald bolts
can be enchanted through the spell
Enchant Crossbow Bolt (Emerald)
by a player with level 27
Magic
. The spell enchants 10 emerald bolts at a time.
Enchanted emerald bolts have a chance of triggering the Magical poison effect. This makes the bolts count as being poisoned with extra strong poison (5 poison damage, even higher than poisoned projectiles, which have an initial damage of 4), along with an increased chance of poisoning their opponent. When the ability is activated, a cloud of green gas rises up below the target, and it makes a distinct sound.
These are commonly used to range Aviansies, to get kill count. They are also common when fighting the Corporeal Beast, to stun the Dark core.
If the player has completed the Hard Kandarin Diary, there is a 10% increase of the likelihood that the special effect of an enchanted bolt will occur (even if the Kandarin headgear is not equipped).
Bonuses
Hover over image for type

The Magical poison ability from enchanted emerald bolts after enchanting Emerald bolts
 Attack bonus
+0
+0
+0
+0
+0
 Defence bonus
+0
+0
+0
+0
+0
Other bonuses
Slot

list

+0
+85
0%
+0
Metal bolts

 Bronze (unf) •  Blurite (unf) •  Silver (unf) •  Iron (unf) •  Steel (unf) •  Mithril (unf) •  Adamant (unf) •  Runite (unf) •  Dragon (unf)

Bolt tips

 Opal •  Jade •  Pearl •  Topaz •  Sapphire •  Emerald •  Ruby •  Diamond •  Amethyst •  Dragonstone •  Onyx

Gem-tipped bolts

 Opal (e) •  Jade (e) •  Pearl (e) •  Topaz (e) •  Sapphire (e) •  Emerald (e) •  Ruby (e) •  Diamond (e) •  Dragonstone (e) •  Onyx (e)

Dragon gem-tipped bolts

 Opal (e) •  Jade (e) •  Pearl (e) •  Topaz (e) •  Sapphire (e) •  Emerald (e) •  Ruby (e) •  Diamond (e) •  Dragonstone (e) •  Onyx (e)

Other bolts

 Bone •  Barbed •  Mith grapple (unf) (tip) •  Bolt rack •  Kebbit •  Long kebbit •  Broad (unf) •  Amethyst