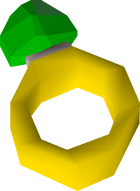 The Emerald ring is made by using a gold bar on a furnace whilst having an emerald and ring mould in the inventory. It requires a Crafting level of 27 and gives 55 experience when made.
They are dropped by Crawling Hands and can also be obtained from bird nests. The ring has no stats but can be enchanted using level 2 enchant (27 magic) to make a ring of dueling.
Emerald rings can be sold to Grum's Gold Exchange in Port Sarim, starting at 892 coins each when none are in stock.
Obtaining steel, iron or silver keys from H.A.M. Guards gives you a chance to get jewellery ranging from sapphire to diamond.
Bonuses
Hover over image for type
 Attack bonus
+0
+0
+0
+0
+0
 Defence bonus
+0
+0
+0
+0
+0
Other bonuses
Slot

list

+0
0
0%
+0
Standard

 Opal •  Gold •  Jade •  Topaz •  Sapphire •  Emerald •  Ruby •  Diamond •  Dragonstone •  Onyx •  Zenyte

Enchanted

 Pursuit •  Returning •  Efaritay's aid •  Recoil •  Dueling •  Forging •  Life •  Wealth (imbued) •  Stone •  Suffering (imbued)

Fremennik

 Archers (imbued) •  Berserker (imbued) •  Seers (imbued) •  Warrior (imbued)

Wilderness

 Treasonous (imbued) •  Tyrannical (imbued) •  Ring of the gods (imbued)

Other

 Beacon •  Charos (activated) •  Coins •  Easter •  Granite (imbued) •  Lunar •  Nature •  'Perfect' •  Slayer (eternal) •  Stolen garnet •  Visibility
Jewellery

 Necklace •  Amulet(Unstrung, Pre-nature) •  Ring •  Bracelet

Enchanted jewellery

 Binding necklace •  Amulet of defence •  Amulet of nature •  Ring of dueling •  Castle wars bracelet

Fletching

 Bolt tips •  Bolts •  Bolts (e) •  Dragon bolts •  Dragon bolts (e)

Other

 Emerald lantern
Ad blocker interference detected!
Wikia is a free-to-use site that makes money from advertising. We have a modified experience for viewers using ad blockers

Wikia is not accessible if you've made further modifications. Remove the custom ad blocker rule(s) and the page will load as expected.