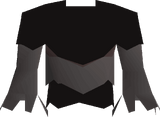 Evil chicken wings are an item that can be obtained from offering bird's eggs to the shrine in the Woodcutting Guild. They are part of the evil chicken outfit. There is a 1/300 chance of obtaining a piece of the outfit.
If the "Flap" emote has been unlocked from the Stronghold of Security, when wearing all the pieces of the set, players can do an enhanced "Flap" emote where their character lifts off the ground slightly as if flying.
Bonuses
Hover over image for type
 Attack bonus
+0
+0
+0
+0
+0
 Defence bonus
+0
+0
+0
+0
+0
Other bonuses
Slot

list

+0
0
0%
+0
Ad blocker interference detected!
Wikia is a free-to-use site that makes money from advertising. We have a modified experience for viewers using ad blockers

Wikia is not accessible if you've made further modifications. Remove the custom ad blocker rule(s) and the page will load as expected.