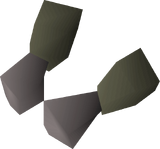 Expert mining gloves are a pair of gloves purchased from Belona by combining a pair of mining gloves and superior mining gloves for a fee of 60 unidentified minerals, costing a total of 240 unidentified minerals. These gloves require level 70 in Mining to wear.
When mining certain rocks with the gloves equipped, there is a chance that the rock will not be depleted, and the player will continue mining the rock until it depletes. This effect stacks with the mining cape and Varrock armour.
When a person dies with these in their inventory while in the Wilderness they do not keep the gloves but instead get 14 coins in their place.
The rocks listed below are affected by the gloves' effect:
Bonuses
Hover over image for type
 Attack bonus
+0
+0
+0
+0
+0
 Defence bonus
+0
+0
+0
+0
+0
Other bonuses
Slot

list

+0
?
?
+0
Although they match the appearance of the prospector kit, they do not count towards the set bonus, nor are they able to be stored in a costume room.