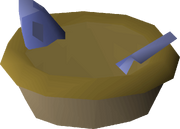 A fish pie requires 47 Cooking to make and bake, and as all other pies is eaten in halves. The fish pie allows players to boost their Fishing level by 3 temporarily. Cooking a raw fish pie gives 164 experience.
To make a fish pie the player must perform the following steps:
Add some pastry dough to a pie dish to make a pie shell.
Add a cooked trout, a cooked cod and a raw potato (in that order) to the pie shell to make a raw fish pie.
Cook the raw fish pie on a range to turn it into a fish pie.
Dropping monsters
Edit
Pies

 Redberry •  Meat •  Mud •  Apple •  Garden •  Fish •  Botanical •  Mushroom •  Admiral •  Wild •  Summer

Raw/uncooked pies

 Redberry •  Meat •  Mud •  Apple •  Garden •  Fish •  Botanical •  Mushroom •  Admiral •  Wild •  Summer

Part pies

 Pie shell •  Mud 1 •  Mud 2 •  Garden 1 •  Garden 2 •  Fish 1 •  Fish 2 •  Admiral 1 •  Admiral 2 •  Wild 1 •  Wild 2 •  Summer 1 •  Summer 2

Ingredients

 Pastry dough •  Redberries •  Cooked meat •  Compost •  Cooking apples •  Tomato •  Onion •  Cabbage •  Trout •  Cod •  Raw potato •  Salmon •  Tuna •  Raw bear meat •  Raw chompy •  Raw rabbit •  Strawberry •  Sulliuscep cap •  Watermelon •  Golovanova fruit top