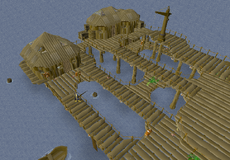 The Fishing Platform is located due east of Witchaven, in the ocean. Start the beginning of the Sea Slug Quest and talk to Holgart (with some swamp paste) to arrive here. After the quest you can get here by talking to Jeb.
Not long ago, Witchaven was a busy town of trade in which its fishermen prospered. This came to a stop once this fishing platform was built: Witchaven lost its trade and began to fall into economic turmoil, though the fishermen of the platform prospered.
However, something even fishier has happened. The fishermen have become possessed by some strange sea slugs (and giant lobsters) hell-bent on freeing their beloved queen, and as the player discovers, their determination seeps into Witchaven in the Slug Menace quest.
Points of interest
Edit
The fishing platform has 4 fishing spots to the very east of the ground floor. These fish can only be caught by bait fishing or net fishing.
There is not much of interest on the second floor, other than the terrified boy name Kennith rescued in the Sea Slug Quest. You may speak to the 11 possessed fishermen here, though you will find them to not be particularly talkative.
The platform is also the location for an emote elite clue scroll and a medium clue scroll.
Personalities
Edit
Bailey, the caretaker of the Fishing Platform.
Fisherman, who are possessed by Sea Slugs.
Kennith, a small boy trapped.
Holgart, who will row you back to shore.
Jeb, a possessed man who will row you back and forth from the platform after Slug Menace.
Music Unlocked
Edit
Fruits De Mer is the only music unlocked on the platform.