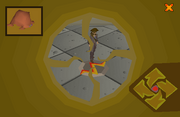 The fixed device is a Gnome contraption, similar to a Bazooka, which is used in the Mourning's Ends Part I quest to shoot dye on Farmer Brumty's sheep. It requires a Ranged level of 60 to wield. It uses dyed toads as ammo, which players make by filling ogre bellows with any dye (except orange and purple), then using the bellows on a swamp toad. Only one toad may be placed in the device at a time, and the device can only be wielded when filled with ammo. When equipped, it is held like a bazooka and two-handed. Its only attack modes are "Aim and fire", which the player uses to fire the toads at the sheep, and "Kick" which, as its name implies, is a basic kicking attack.
After Mourning's Ends Part I is complete, players can still use the Fixed device as usual, firing it at anyone and anything they wish. Players wishing to use this item for an extended amount of time can collect as many dyed toads as they want. It is also easier to use the device if a player has two of them: one to wield and one to keep in the inventory. This makes things easier because using a toad on the device in the player's inventory will also load the device on the player's shoulder, allowing it to be fired over and over without taking it off after each shot.
This item gives no Attack or Defence bonuses, so it can be brought to Entrana.
If lost, players can re-obtain a Broken device and ask the gnome prisoner to fix it. You will need more Leather, Toad crunchies and another Magic log. He will still do this after the quest is complete.
Bonuses
Hover over image for type

A player wielding the fixed device.
 Attack bonus
+0
+0
+0
+0
+0
 Defence bonus
+0
+0
+0
+0
+0
Other bonuses
Slot

list

+0
0
0%
+0
Combat styles
Edit
Combat Style
Type
Experience
Aim and Fire
Aim and Fire
None
Kick
Crush
Strength and Hitpoints
The Fixed Device looks very similar to the Event RPG, which is very popular with people who have a low attack level due to the fact it allows you to attack quicker, and therefore achieve higher DPS than you would if using something like an iron scimitar.
Characters

Arianwyn • Eluned • Oronwen • Elena • Mourner • Head mourner • Tegid • Gnome • Slave

Items

 Teleport crystal •  Sieve •  Tegid's soap •  Tarnished key •  Mourner letter •  Prifddinas' history

Fractionation still

 Big book of bangs •  Toxic powder •

| | |
| --- | --- |
| Barrels |  Barrel •  Apple •  Rotten apples •  Coal-tar •  Naphtha •  Toxic naphtha •  Naphtha apple mix |

Mourner outfit

Coloured toads

| | |
| --- | --- |
| Devices |  Fixed •  Broken |
| Swamp toads | |
| Ogre bellows | |

Locations

Isafdar • Mourner Headquarters • Mourner Tunnels • Poison Waste • West Ardougne

Music

Miscellaneous
Ad blocker interference detected!
Wikia is a free-to-use site that makes money from advertising. We have a modified experience for viewers using ad blockers

Wikia is not accessible if you've made further modifications. Remove the custom ad blocker rule(s) and the page will load as expected.