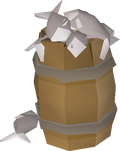 Fresh fish is obtained from barrels of fish found throughout the Piscarilius House in Great Kourend. Players must deposit these into the cooling chest in Frankie's Fishing Emporium in the southeast corner of the Piscarilius House.
Players have a minute before the fresh fish deteriorates, so be sure to deposit it immediately.
It is recommended to gather the fresh fish directly west of Frankie's store, as it's closest to the cooling chest. After gathering about 20 fish, run to the deposit box. This gives approximately 0.3% favour towards the Piscarilius House per 20 fish.
Ad blocker interference detected!
Wikia is a free-to-use site that makes money from advertising. We have a modified experience for viewers using ad blockers

Wikia is not accessible if you've made further modifications. Remove the custom ad blocker rule(s) and the page will load as expected.