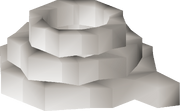 A Fuse is used on a keg of gunpowder so that it can be lit off and explode. It is used during the Cabin Fever quest while battling the enemy ship, and in The Great Brain Robbery quest to destroy the door of the monastery.
Characters

Bill Teach • Pirate • Mama

Items

 Fuse •  Repair plank •  Tacks •  Plunder •  Cannon barrel •  Canister •  Gunpowder •  Cannon ball •  Ramrod •  Broken cannon •  Book o' piracy

Locations

Music

Related
Ad blocker interference detected!
Wikia is a free-to-use site that makes money from advertising. We have a modified experience for viewers using ad blockers

Wikia is not accessible if you've made further modifications. Remove the custom ad blocker rule(s) and the page will load as expected.