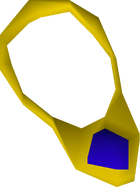 A Games necklace is an enchanted sapphire necklace worn on neck slot. This item has 8 charges which can teleport the player to the various locations in Gielinor. After all 8 charges are used, the necklace will disintegrate into dust.
A games necklace may be created by casting Lvl-1 Enchant on a sapphire necklace. This requires a water rune and a cosmic rune, and grants 17.5 Magic experience.
When a games necklace has one charge remaining, it is recommended not to use the last charge, but instead to save it and cast High Level Alchemy on it later, as the necklace's alchemy value is irrespective of its charge level.
Teleport Locations
Edit
Bonuses
Hover over image for type
 Attack bonus
+0
+0
+0
+0
+0
 Defence bonus
+0
+0
+0
+0
+0
Other bonuses
Slot

list

+0
0
0%
+0
Only the fully charged games necklace can be traded on the Grand Exchange.
The in-game price checker can still calculate the price of partially charged necklace as a fraction of the GE price of a fully charged necklace.
Crafted

 Gold •  Opal •  Sapphire •  Jade •  Emerald •  Topaz •  Ruby •  Diamond  Dragonstone •  Onyx •  Zenyte

Enchanted

 Dodgy •  Games •  Passage •  Binding •  Faith •  Digsite •  Phoenix •  Skills •  Berserker •  Anguish

Other

 Brass •  Clean •  Occult (or) •  'perfect' •  Silver •  Stolen family heirloom
Ad blocker interference detected!
Wikia is a free-to-use site that makes money from advertising. We have a modified experience for viewers using ad blockers

Wikia is not accessible if you've made further modifications. Remove the custom ad blocker rule(s) and the page will load as expected.