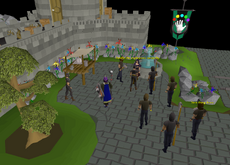 A Gang Boss is encountered in Great Kourend during the Tackle organised crime event for the Shayzien house. They appear at select locations along with a group of 4-14 gangsters. They will despawn from all worlds 5 minutes after the time they were scheduled to appear.
Killing a Gang Boss will grant 4.5% favor with the Shayzien house.
Weapons & Armour
Edit
Runes & Ammunition
Edit
Rare drop table
In addition to the drops above, this monster also has access to the rare drop table.
Ad blocker interference detected!
Wikia is a free-to-use site that makes money from advertising. We have a modified experience for viewers using ad blockers

Wikia is not accessible if you've made further modifications. Remove the custom ad blocker rule(s) and the page will load as expected.