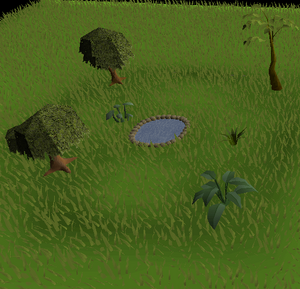 A Garden in a Player-owned house is one of the only two types of rooms a player can build starting at level 1 Construction skill. Since every house is required to have an exit portal, every player has at least one garden or formal garden in their house. Building a Garden costs 1,000 coins.
There are 8 hotspots available:
Centerpiece
Tree (x2)
Small plant (x2)
Big plant (x2)
Tip jar
Centrepiece
Edit
Note: For the following sections, the player will receive the same amount of Farming experience as Construction experience when these plants are constructed.
Note: None of these trees may be chopped down for wood. They are purely decorative.
Note: The level boost from a cup of tea will work, but the Crystal saw's boost will NOT work.
Small plants
Edit
Big plants
Edit

 Garden •

 Parlour •

 Kitchen •

 Dining Room •

 Workshop •

 Bedroom •

 Skill Hall •

 Games room •

 Combat Room •
 Quest Hall •

 Menagerie •

 Study •

 Costume Room •

 Chapel •

 Portal Chamber •

 Formal Garden •

 Throne Room •

 Oubliette •

 Superior Garden •

 Dungeon •

 Treasure Room •
 Achievement Gallery
Ad blocker interference detected!
Wikia is a free-to-use site that makes money from advertising. We have a modified experience for viewers using ad blockers

Wikia is not accessible if you've made further modifications. Remove the custom ad blocker rule(s) and the page will load as expected.