General Graardor is the leader of Bandos' forces within the God Wars Dungeon. He is the only known living member of the Ourg race in Old School Runescape.
He is found in Bandos' Stronghold, which requires a Strength level of 70 and a hammer to access. To enter his quarters, players must have killed 40 of Bandos' followers throughout the dungeon, with goblins being the easiest of the followers to kill.
General Graardor will yell out the following whether or not he is in combat with any players:
"Death to our enemies!"
"Brargh!"
"Break their bones!"
"For the glory of Bandos!"
"Split their skulls!"
"We feast on the bones of our enemies tonight!"
"CHAAARGE!"
"Crush them underfoot!"
"All glory to Bandos!"
"GRRRAAAAAR!"
"FOR THE GLORY OF THE BIG HIGH WAR GOD!"
Bodyguards
Edit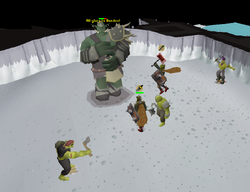 Gems and ores
Edit
Rare drop table
In addition to the drops above, this monster has a 8/127 chance to access the standard rare drop table.
↑ 2.0 2.1 2.2 The drop rate is increased by an unknown amount when wearing a Ring of wealth.
At Old School RuneScape's first birthday event, players could speak to General Graardor, resulting in the following dialogue:

Player: Erm.... hi?
Graardor: Puny 'uman ffffedddfded meeee
Player: Yeah right okay there's no point taking this further.
Graardor eats a nearby ankou.

At Old School RuneScape's fifth birthday event, a very large statue of General Graardor was present.
He is currently the eighth strongest monster in Old School RuneScape, coming after K'ril Tsutsaroth, TzTok-Jad, Zulrah, Vorkath, Corporeal Beast, Great Olm and TzKal-Zuk.
Prior to the 19 January 2017 update, Graardor had a Magic level of 280; this was reduced to 80 in order to prevent the Twisted bow from dealing massive damage on him, and to compensate for the decreased Magic level, his magic defence bonus was increased from +65 to +201. However, this ultimately resulted in Graardor being much easier to kill with magic attacks, and a hotfix was applied the following day in order to rebalance his magic resistance.
Any warhammer, most notably the dragon warhammer, can be used in lieu of a regular hammer when entering Bandos' Stronghold.
References
Edit
Bosses

| | |
| --- | --- |
| Bandos | General Graardor |

Items

| | |
| --- | --- |
| Godswords |  Armadyl (or) •  Bandos (or) •  Saradomin (or) •  Zamorak (or) |
| Armadyl armour | |
| Bandos armour |  Chestplate •  Tassets •  Boots |
| Weapons |  Saradomin sword (blessed) •  Zamorakian spear (hasta) •  Staff of the dead (toxic) •  Armadyl crossbow •  Steam battlestaff (or) |
| Pets |  Kree'arra •  General Graardor •  Commander Zilyana •  K'ril Tsutsaroth |
| Other | |

Music

Armageddon • Armadyl Alliance • Bandos Battalion • Strength of Saradomin • Zamorak Zoo

Related