General Graardor is the leader of Bandos' forces within the God Wars Dungeon.
He can be fought in Bandos' Stronghold in the God Wars Dungeon. A strength level of 70 is required to reach his quarters. To enter, players must kill 40 of Bandos' followers throughout the dungeon, with goblins being the easiest of the followers to kill.
General Graardor will yell out the following quotes when marching around his room or fighting players:
"Death to our enemies!"
"Brargh!"
"Break their bones!"
"For the glory of Bandos!"
"Split their skulls!"
"We feast on the bones of our enemies tonight!"
"CHAAARGE!"
"Crush them underfoot!"
"All glory to Bandos!"
"GRRRAAAAAR!"
"FOR THE GLORY OF THE BIG HIGH WAR GOD!"
Bodyguards
Edit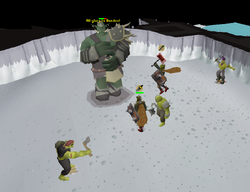 100% Drop
Edit
Gems and ores
Edit
Rare drop table
In addition to the drops above, this monster also has access to the rare drop table.
At Old School RuneScape's first birthday event, players could speak to General Graardor, resulting in the following dialogue:

Player: Erm.... hi?
Graardor: Puny 'uman ffffedddfded meeee
Player: Yeah right okay there's no point taking this further.
Graardor eats a nearby ankou.

Prior to the 19 January 2017 update, Graardor had a Magic level of 280; this was reduced to 80 in order to prevent the Twisted bow from dealing massive damage on him, and to compensate for the decreased magic level, his magic defence bonus was increased from +65 to +201. However, this ultimately resulted in Graardor being much easier to kill with magic attacks, and a hotfix was applied the following day in order to rebalance his magic resistance.
He is currently the seventh strongest monster in old school RuneScape, coming after K'ril Tsutsaroth, TzTok-Jad, Zulrah, Corporeal Beast, Great Olm and TzKal-Zuk.
References
Edit
↑ 1.0 1.1 1.2

1/128 chance of dropping one of three Bandos items or 1/384 chance of dropping a unique Bandos drop.
Ad blocker interference detected!
Wikia is a free-to-use site that makes money from advertising. We have a modified experience for viewers using ad blockers

Wikia is not accessible if you've made further modifications. Remove the custom ad blocker rule(s) and the page will load as expected.