General Graardor is the leader of Bandos' forces within the God Wars Dungeon. He is the only known living member of the Ourg race in Old School Runescape.
He is found in Bandos' Stronghold, which requires a Strength level of 70 and a hammer to access. To enter his quarters, players must have killed 40 of Bandos' followers throughout the dungeon, with goblins being the easiest of the followers to kill.
General Graardor will yell out the following whether or not he is in combat with any players:
"Death to our enemies!"
"Brargh!"
"Break their bones!"
"For the glory of Bandos!"
"Split their skulls!"
"We feast on the bones of our enemies tonight!"
"CHAAARGE!"
"Crush them underfoot!"
"All glory to Bandos!"
"GRRRAAAAAR!"
"FOR THE GLORY OF THE BIG HIGH WAR GOD!"
Bodyguards
Edit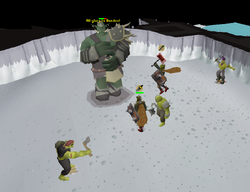 The average price of a Bandos item is 10,375,801.25 meaning each kill is worth 105,744.9 purely from unique drops.
100% Drop
Edit
Gems and ores
Edit
Also capable of dropping the goblin champion scroll.
Rare drop table
In addition to the drops above, this monster also has access to the rare drop table.
References
Edit
↑ 1.0 1.1 1.2

1/128 chance of dropping one of three Bandos items or 1/384 chance of dropping a unique Bandos drop.
Ad blocker interference detected!
Wikia is a free-to-use site that makes money from advertising. We have a modified experience for viewers using ad blockers

Wikia is not accessible if you've made further modifications. Remove the custom ad blocker rule(s) and the page will load as expected.