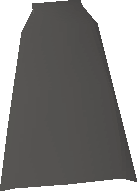 The ghostly robe (bottom) is a piece of member's only armour. Players can obtain one after speaking to Lennissa during the Curse of the Empty Lord miniquest. The robe bottom, according to Lennissa, was a spare robe that she wore during one of her assignments.
There are no requirements to wear and, when worn with the other pieces, the player appears 'ghostlike' (i.e. see-through). Multiple pieces may be obtained through the drop trick.
If lost after obtaining it, it can be purchased from Perdu for 43,000 coins.
Bonuses
Hover over image for type
 Attack bonus
+0
+0
+0
+4
+0
 Defence bonus
+0
+0
+0
+4
+0
Other bonuses
Slot

list

+0
0
0%
+0
Equipment

 Ghostly hood •  Ghostly robe top •  Ghostly robe bottom •  Ghostly gloves •  Ghostly boots •  Ghostly cloak •  Shadow sword

Ghosts

Other

Ghostly Robes (miniquest) • Shadow Sword (miniquest) • Ring of visibility • Ghostspeak amulet
Ad blocker interference detected!
Wikia is a free-to-use site that makes money from advertising. We have a modified experience for viewers using ad blockers

Wikia is not accessible if you've made further modifications. Remove the custom ad blocker rule(s) and the page will load as expected.