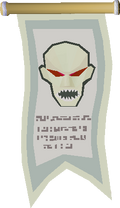 The Ghoul Champion is fought by receiving a challenge scroll, a rare drop from a ghoul.
Since only weapons are allowed, the player should bring an Abyssal whip, Godsword, a halberd, or another powerful weapon. Weapons in the inventory are also allowed, so bringing a dragon dagger (p++) and using its specials will make quick work of your opponent. The Champion has two attacks - a ranged attack and a melee attack. Since his ranged attack is stronger, it is suggested players use Protect from Ranged. To escape without a scratch, players can use a Ranged weapon such as darts (but the player cannot use a bow (except for the crystal bow) or crossbow since they require ammunition, which does not count as a weapon). For melee fighters, you can easily defeat him by standing out of melee range and using a halberd while using Protect from Ranged.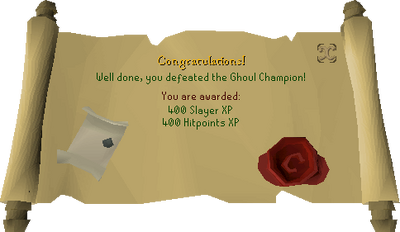 400 experience
400 experience
A banner hung under the Champions' Guild to proclaim victory over the Ghoul Champion.
Lower Champions

Earth Warrior • Ghoul • Giant • Goblin • Hobgoblin • Imp • Jogre • Lesser Demon • Skeleton • Zombies

Champion of Champions

Scrolls

 Earth Warrior •  Ghoul •  Giant •  Goblin •  Hobgoblin •  Imp •  Jogre •  Lesser Demon •  Skeleton •  Zombies •  Human

Rewards

 Champion's cape
Ad blocker interference detected!
Wikia is a free-to-use site that makes money from advertising. We have a modified experience for viewers using ad blockers

Wikia is not accessible if you've made further modifications. Remove the custom ad blocker rule(s) and the page will load as expected.