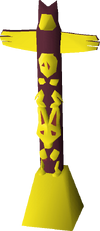 The gilded totem is a quest item obtained during the Legends' Quest quest. At the very start of the quest the player is asked to get one from the inhabitants of Kharazi Jungle by Radimus Erkle so that it may be displayed it in the main hall of the Legends' Guild.
The player must then complete a long quest before finally being given a gilded totem by Gujuo, and the reward for doing so is access to the Legends' Guild and being able to wield the dragon square shield.
Players can charge the Skills necklace and the Combat Bracelet by using them with the totem pole.
If you lose this item (or do not receive it due to a full inventory), you can retrieve it by re-entering the Kharazi Jungle and swinging your bull roarer.
Ad blocker interference detected!
Wikia is a free-to-use site that makes money from advertising. We have a modified experience for viewers using ad blockers

Wikia is not accessible if you've made further modifications. Remove the custom ad blocker rule(s) and the page will load as expected.