The Gnome Maze is part of the Tree Gnome Village. The maze must be solved in order to start the Tree Gnome Village quest. After the first completion, Elkoy will be available as an escort through the maze both to and from the village. The maze is also involved in other quests, such as Waterfall Quest and Regicide.
Several creatures are found within the maze including Goblins, Hill Giants, Wolves, Spiders, Rats, Giant rats, Black bears, and Terrorbirds.
Kalron, a lost gnome, is also found within the maze.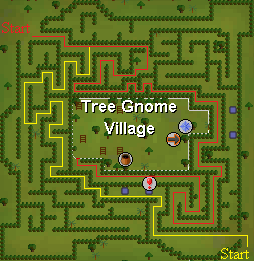 Ad blocker interference detected!
Wikia is a free-to-use site that makes money from advertising. We have a modified experience for viewers using ad blockers

Wikia is not accessible if you've made further modifications. Remove the custom ad blocker rule(s) and the page will load as expected.