The Tree Gnome Stronghold Agility Course is an Agility course in which the player must traverse obstacles consisting of a Log Balance, Obstacle Nets, Tightropes, and Pipes. It was released along with the Agility skill on 12 December 2002. It is located south of the Grand Tree in the Tree Gnome Stronghold, which is north-west of East Ardougne. This Agility course is the lowest level course that can be accessed. It is impossible to fail any of the challenges on this course.
Introduction
Edit
This course has no requirements, and players cannot take damage here; therefore, food is not required. Players may benefit by using an energy potion or another similar item, so they can recover their energy. Players gain 86.5 experience points for a complete circuit.
The best way to get there, if the player has completed Tree Gnome Village, is to use the Spirit tree teleports. Otherwise, players can use a Gnome glider (after The Grand Tree quest), or travel north-west from East Ardougne.
Getting there
Edit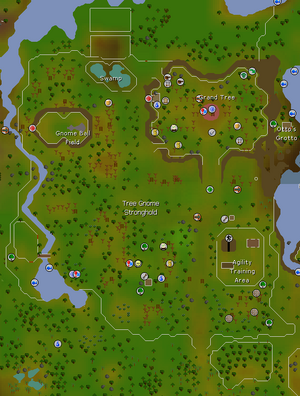 The course
Edit
The table for experience gains on this Agility course are as follows:
| Obstacle | XP Gain |
| --- | --- |
| Log Balance | 7.5 |
| Net Climb | 7.5 |
| Branch Climb | 5 |
| Balancing Rope | 7.5 |
| Branch Climb | 5 |
| Net Climb | 7.5 |
| Tunnel | 7.5 |
| Course Completion Bonus | 39 |
| Total | 86.5 |
This gives about 7,400 - 8,900 XP per hour.
During the course of your Agility training, the Gnome Trainers will shout either encouraging phrases or insult you, mimicking a drill sergeant.
Agility courses

 Gnome stronghold(1) •  Gnome Ball(1) •  Brimhaven(1) •  Werewolf Skullball(25) •  Agility Pyramid(30) •  Penguin(30) •  Barbarian Outpost(35) •  Ape Atoll(48) •  Wilderness(52) •  Werewolf(60) •  Dorgesh-Kaan(70)

Rooftop Agility courses

Draynor Village(10) • Al Kharid(20) • Varrock(30) • Canifis(40) • Falador(50) • Seers' Village(60) • Pollnivneach(70) • Rellekka(80) • Ardougne(90)
Ad blocker interference detected!
Wikia is a free-to-use site that makes money from advertising. We have a modified experience for viewers using ad blockers

Wikia is not accessible if you've made further modifications. Remove the custom ad blocker rule(s) and the page will load as expected.