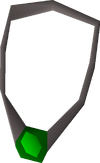 The gnome amulet is awarded to players by King Bolren after completion of the Tree Gnome Village quest. Should the player happen to lose the amulet, another can be obtained for free from King Bolren.
It is made from the same material as the orbs of protection that are retrieved during the quest.
The gnome amulet is identical in appearance to Glarial's amulet and the crystal pendant.
Bonuses
Hover over image for type
 Attack bonus
+0
+0
+0
+0
+0
 Defence bonus
+13
+13
+13
+0
+0
Other bonuses
Slot

list

+0
+0
+0%
+0
Crafted

| | |
| --- | --- |
| Unstrung |  Gold •  Sapphire •  Opal •  Emerald •  Jade •  Topaz •  Ruby •  Diamond •  Dragonstone •  Onyx •  Zenyte |
| Strung |  Gold •  Sapphire •  Opal •  Emerald •  Pre-nature •  Jade •  Topaz •  Ruby •  Diamond •  Dragonstone •  Onyx •  Zenyte |
| Enchanted |  Magic (t) •  Bounty •  Defence •  Nature •  Chemistry •  Burning •  Strength (t) •  Power •  Glory (t) •  Fury (or) •  Torture (or) |

Translation

 Camulet •  Catspeak (e) •  Ghostspeak •  Monkeyspeak (unstrung)

Others

 Accuracy •  Eternal glory •  Crone-made •  Cat training medal •  Glarial's •  Gnome •  Lunar •  Salve (e) (i) (ei) •  3rd age •  Yin Yang •  Xeric's talisman •  Amulet of the damned