The golden warbler is a golden bird that can be caught using the Hunter skill, granting the player Hunter experience. Golden warblers are caught using bird snares at level 5 Hunter.
Location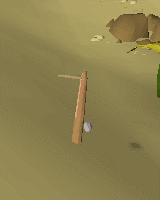 Golden warblers inhabit the Kharidian Desert between the 
Shantay Pass
 and the ruins of 
Uzer
, on the east side of the bridge over the River Elid.
Description
"
The golden warbler can be easily identified by its hideously annoying song. Although the warbler is prized by hunters for its fine feathers, it is probably caught just as much simply to shut it up.
"
 
Birds

 Crimson swift •  Golden warbler •  Copper longtail •  Cerulean twitch •  Tropical wagtail

Butterflies

 Ruby harvest (item) •  Sapphire glacialis (item) •  Snowy knight (item) •  Black warlock (item)

Implings

 Baby •  Young •  Gourmet •  Earth •  Essence •  Eclectic •  Nature •  Magpie •  Ninja •  Dragon •  Lucky

Kebbits

 Polar •  Common •  Feldip Weasel •  Desert Devil •  Wild •  Barb-tailed  Prickly •  Spotted •  Razor-backed •  Sabre-toothed •  Dark •  Dashing

Salamanders

 Swamp lizard•  Orange •  Red •  Black

Chinchompas

Other

 Ferret •  White rabbit •  Spined larupia •  Horned graahk •  Fish shoal •  Sabre-toothed kyatt •  Maniacal monkey •  Imp •  Herbiboar