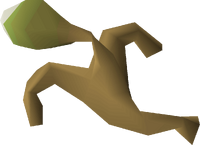 Gout tubers can be planted in a herb patch with level 29 Farming in order to produce goutweeds. It cannot be planted at the disease-free Troll Stronghold herb patch. Goutweed can be traded to Sanfew in Taverley, for a random herb per goutweed.
It is highly recommended that players do not grow goutweed, since the herbs received from Sanfew are random, and gout tubers are very expensive.
A Gout tuber can only be obtained while hacking jungles during the Tai Bwo Wannai Cleanup activity, or by trading other players. Sometimes after hacking down jungle during the activity, players will receive a message: You hack away the remaining bush to reveal an unusual plant. The unusual plant has a 1% chance of appearing when hacking any kind of jungle[1]. Players will need to use a spade on the plant as there is no option to dig it up - doing so gives the player a tuber. Since the chance of a unusual plant appearing is the same for any jungle, the quickest way to obtain a Gout tuber would be to focus on hacking Light Jungle.
Safta Doc requires a gout tuber when making a gem-bladed machete for the player - having a gem-bladed machete created in this manner is a medium task in the Karamja Diary.
A similar item to a Gout tuber identified as a Goutweedy lump appears in My Arm's Big Adventure when a human was boiled into a stew along with a lump of Gout tuber he possessed, the man was eaten but lumpy remnants of the tuber can be found in the Cooking Pot at Death Plateau.
References
Edit
Allotment

 Potato •  Onion •  Cabbage •  Tomato •  Sweetcorn •  Strawberry •  Watermelon

Flower

 Marigold •  Rosemary •  Nasturtium •  Woad •  Limpwurt

Herb

 Guam  Marrentill •  Tarromin •  Harralander •  Gout tuber •  Ranarr •  Toadflax •  Irit •  Avantoe •  Kwuarm •  Snapdragon •  Cadantine •  Lantadyme •  Dwarf weed •  Torstol

Hop

 Barley •  Hammerstone •  Asgarnian •  Jute •  Yanillian •  Krandorian •  Wildblood

Bush

 Redberry •  Cadavaberry •  Dwellberry •  Jangerberry •  Whiteberry •  Poison ivy

Tree
Fruit tree

 Apple tree •  Banana tree •  Orange tree •  Curry tree •  Pineapple •  Papaya tree •  Palm tree

Special seeds

 Seaweed •  Teak •  Grape •  Mushroom •  Mahogany •  Cactus •  Belladonna •  Calquat •  Spirit

Other seeds

 Blindweed •  Crystal (small) •  Grass •  Hardy gout tuber •  Hardy gout tubers •  Kelda •  Pine tree •  White pearl

| | |
| --- | --- |
| Tithe Farm seeds | |
| Chambers of Xeric | |
| Garden of Tranquillity |  Delphinium •  Pink orchid •  Pink rose •  Red rose •  Snowdrop •  Vine •  White rose •  Yellow orchid |
Normal herbs

| | |
| --- | --- |
| Grimy |  Guam leaf •  Marrentill •  Tarromin •  Harralander •  Ranarr weed •  Toadflax •  Irit leaf •  Avantoe •  Kwuarm •  Snapdragon •  Cadantine •  Lantadyme •  Dwarf weed •  Torstol |
| Clean |  Guam leaf •  Marrentill •  Tarromin •  Harralander •  Ranarr weed •  Toadflax •  Irit leaf •  Avantoe •  Kwuarm •  Snapdragon •  Cadantine •  Lantadyme •  Dwarf weed •  Torstol |

Special herbs

Grimy herbs

 Ardrigal •  Rogue's purse •  Sito foil •  Snake weed •  Volencia moss

Clean herbs

 Ardrigal •  Rogue's purse •  Sito foil •  Snake weed •  Volencia moss

Other

 Bruma herb •  Doogle leaves •  Goutweed

Chambers of Xeric

| | |
| --- | --- |
| Grimy |  Golpar •  Buchu leaf •  Noxifer |
| Clean |  Golpar •  Buchu leaf •  Noxifer |