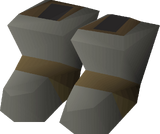 Granite boots are boots made out of granite rock. They require level 50 Defence and Strength to equip, offering strength bonus and defensive stats superior to rune boots.
Unlike most melee boots, they also provide a Ranged defence bonus.
They are obtained as a drop from wyverns in the Wyvern Cave.
Bonuses
Hover over image for type
 Attack bonus
+0
+0
+0
-3
-1
 Defence bonus
+15
+16
+17
+0
+8
Other bonuses
Slot

list

+3
+0
+0%
+0
Dropping monsters
Trivia
These boots are worn by Dondakan years before their actual release. After completing the quest Between a Rock..., you have the option to buy them from him, but he will refuse to sell them to you no matter how much you offer him.
Melee

 Rock-shell •  Bronze (Fighting • Fancy) •  Iron •  Steel •  Black •  White •  Mithril •  Adamant •  Samurai •  Rune (Gilded) •  Granite •  Dragon (g) •  Bandos •  Guardian •  Primordial

Ranged

 Spined •  Leather •  Frog-leather •  Snakeskin • Blessed •  Ranger •  Pegasian

Magic

 Skeletal •  Ghostly •  Moonclan •  Splitbark •  Wizard •Mystic •  Darkness •  Infinity •  Lunar •  Eternal

Other

 Antisanta •  Builder's • Canifis •  Chicken •  Climbing •  Clue hunter •  Desert •  Evil chicken •  Fremennik • Fremennik sea •  Gardening • Gnome •  Graceful •  Gravedigger •  H.A.M. •  Holy •  Insulated •  Lightness •  Mime •  Mourner •  Pirate •  Rogue •  Runner •  Santa • Shayzien•  Shoes •  Silly jester •  Skeleton •  Slave •  Spiked •  Zombie

Experience-boosting

 Angler •  Farmer's •  Lumberjack •  Prospector •  Pyromancer