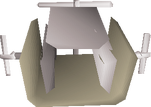 The granite clamp is an item that can be used on the granite maul to create the granite maul (or), which alters the maul's appearance, and is a purely cosmetic addition. It is obtained by purchasing it from the Bounty Hunter Store for 250,000 points.
This item was originally polled as the add-on to a granite maul to create the hardened granite maul, increasing its crush attack to +95 and crumbling to dust after 1,000 hits. This item was voted on in the Old School Bounty Hunter Rewards 2; first it was polled without a defence requirement and then it was polled with a 50 defence requirement. This item failed both polls and was eventually implemented as a cosmetic upgrade kit to the granite maul.
Bounty Hunter

Rewards

Weapons

 Dragon scimitar •  Dragon longsword •  Dragon dagger •  Dragon battleaxe •  Dragon mace •  Dragon halberd •  Bolt rack •  Rune arrows •  Adamant arrows •  Crystal seed

Armour

 Helm of neitiznot •  Berserker helm •  Warrior helm •  Archer helm •  Farseer helm •  Mystic robe top •  Mystic robe bottom •  Mystic hat •  Mystic gloves •  Mystic boots •  Rune platebody •  Rune platelegs •  Rune plateskirt •  Climbing boots

Magic tablets

 Paddewwa •  Senntisten •  Annakarl •  Carrallangar •  Dareeyak •  Ghorrock •  Kharyrll •  Lassar

Cosmetic upgrades

| | |
| --- | --- |
| Cosmetic upgrade kits |  Green dark bow paint •  Yellow dark bow paint •  White dark bow paint •  Blue dark bow paint •  Volcanic whip mix •  Frozen whip mix •  Steam staff upgrade kit •  Lava staff upgrade kit •  Dragon pickaxe upgrade kit •  Ward upgrade kit •  Granite clamp |
| Ornamented items |  Volcanic abyssal whip •  Frozen abyssal whip •  Steam battlestaff •  Lava battlestaff •  Dragon pickaxe •  Odium ward •  Malediction ward •  Granite maul |

Miscellaneous

 Ring of wealth scroll •  Magic shortbow scroll •  Saradomin's tear •  Saradomin's blessed sword •  Rune pouch •  Looting bag •  Clue box •  Bounty teleport scroll •  Hunter's honour •  Rogue's revenge
Ad blocker interference detected!
Wikia is a free-to-use site that makes money from advertising. We have a modified experience for viewers using ad blockers

Wikia is not accessible if you've made further modifications. Remove the custom ad blocker rule(s) and the page will load as expected.