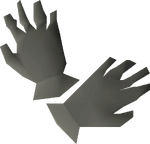 Granite gloves are a pair of melee gloves that are dropped by the Grotesque Guardians that can be found on the Slayer Tower's rooftop. Level 50 Defence and Strength are required to wear them.
Stats-wise, they are similar to those of adamant gloves, but have superior crush bonuses and melee defences.
Bonuses
Hover over image for type
 Attack bonus
+5
+5
+9
-3
-1
 Defence bonus
+8
+8
+8
-3
+5
Other bonuses
Slot

list

+7
0
0%
+0
Dropping monsters
Edit
The examine text is a pun of the idiom in the English language "Never take for granted."
Bosses

Unique drops

| | |
| --- | --- |
| Granite equipment |  Dust •  Cannonball •  Gloves •  Ring (imbued) •  Hammer |
| Other |  Black tourmaline core •  Guardian boots •  Jar of stone •  Noon (Midnight) |

Other
Ad blocker interference detected!
Wikia is a free-to-use site that makes money from advertising. We have a modified experience for viewers using ad blockers

Wikia is not accessible if you've made further modifications. Remove the custom ad blocker rule(s) and the page will load as expected.