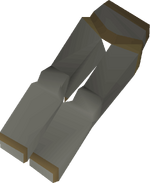 Granite legs are platelegs which require 50 defence and 50 strength to be worn. They can only be obtained by killing Skeletal Wyverns. 
It offers a greater bonus in ranged defence over rune platelegs (+68 vs. +49), but otherwise is lacking statistically in melee defence (+43 stab, +45 slash, +41 crush) compared to its rune counterpart (+51 stab, +49 slash, +47 crush). 
Bonuses
Hover over image for type

A player wearing the granite legs
 Attack bonus
+0
+0
+0
-31
-18
 Defence bonus
+43
+45
+41
-4
+68
Other bonuses
Slot

list

+0
0
0%
+0
Dropping monsters
Edit
Weapons

Armour

Other

 Clamp
Ad blocker interference detected!
Wikia is a free-to-use site that makes money from advertising. We have a modified experience for viewers using ad blockers

Wikia is not accessible if you've made further modifications. Remove the custom ad blocker rule(s) and the page will load as expected.